Van Leasing is generally a business tool, and hence our leases are set up for business use only. Business's can be Sole traders, partnerships or limited companies.
To lease a van the business / its owners and directors will be credit searched by the finance company. Business's / people with good credit are generally accepted automatically. It is important to note that the Financial Conduct Authority require finance to go through an affordability check.
Business with a small amount of adverse may be accepted to lease if we are given explanations.
The credit
Where the credit decision is marginal, we may be asked for further information such as accounts, bank statements and accounts. Additional comfort may be requested in the form of a directors guarantee.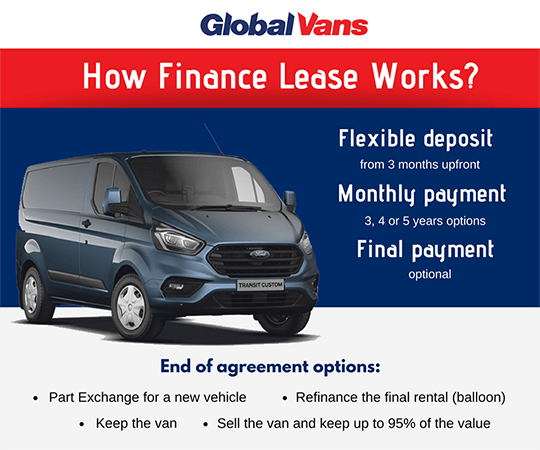 New start business can still be eligible but are likely to be supported by guarantee and usually 9 payments upfront.
Customers will often have more than one lease as their business expands.
Taxation on van leasing
Both types of van leasing (contract hire and finance lease) have similar tax status.
All rentals are offset-able against revenue and hence 100% tax efficient
All rentals are vatable which can be claimed back if vat registered
You are in control
When leasing a van at global vans, we will give you as a customer as many options as possible to give you the most flexibility for when and how it comes to paying for the finance. We want you as the customer to feel like you found the right deal. So fitting your monthly payments around your finances is what is most important. Our prices for vans start as low as £119 a month. This means you should have plenty of options for when it comes to budget vans.
Our partners
Our leasing finance partners are the ones who say the final "yay" or "nay". This is out of our hands. But we will try and let you know beforehand if there is a greater chance for you to be accepted for credit. We have explained it more extensively here on our website if you would like a quick read. 
Contact us
Speak to one of our advisors for a quote on 01179625314 or go to globalvans.co.uk find your vehicle and complete our quick online form for a call back.