Vans for Lease with Global Van Sales
A tax-efficient alternative to buying a vehicle
Leasing is becoming a growing method of financing vans principally because of its low cost upfront payments and its beneficial tax treatment. Traditionally businesses used to either buy their vans or finance them through hire purchase. However as people have become better educated about what leasing can offer, the trend has moved this way.

In actual fact van leasing is made up of two products being contract hire and finance lease. With Contract Hire the lease is a long term rental and the van goes back at the end of the contract. The Finance Lease is more akin to hire purchase as the van does not go back and you have the option to sell the vehicle and terminate the lease or extend it into a secondary period. When you sell the vehicle you usually receive 98% of the sales proceeds, less any finance outstanding so it is very similar to owning the vehicle.

In terms of tax benefit, both leasing products (Contract Hire and Finance Lease) will take advantage of offsetting 100% of the rentals against revenue and are thus hugely tax efficient. VAT is charged on the rentals but can be claimed back if the business is vat registered. The VAT treatment helps keep the initial outlay low as you only have to pay vat on initial rentals rather than the whole van which as you can imagine is a big difference.

How Does Business Van Lease Work?
If you're interested in leasing vans for business, the good news is the process is very simple! There are plenty of leasing deals to choose from and with an experienced team by your side, finding one that works for you is easy. Once you have the credit in place, the lease company you are working with will purchase the van on your behalf and become the technical owners of the van. From there, you will pay rental payments on an agreed schedule for an agreed period of time.
Long term van lease can provide greater financial control which is essential for any kind of business. Pay your lease on a monthly basis and gain a high-quality van that is affordable to run, reliable and works for your needs. At Global Vans, our team is available to answer all of your queries.
Click here for our Latest Van Leasing Deals
What are the key benefits of leasing a van on finance?

Global vans are a leading van broker who have operated for over 18 years. We deliver in excess of 4000 vans each year, which gives us significant discounts with manufacturers and competitive rates with funders. Our staff are well trained and we aim to provide the best service for you giving the right solution and most competitive price.

How does Global Vans Leasing work?
When you enquire with us we will aim to understand your needs and build our solution around you. With access to the full market we can help walk you through the choices available to you meaning we will get a van that's the right specification, the right price and can be delivered quickly.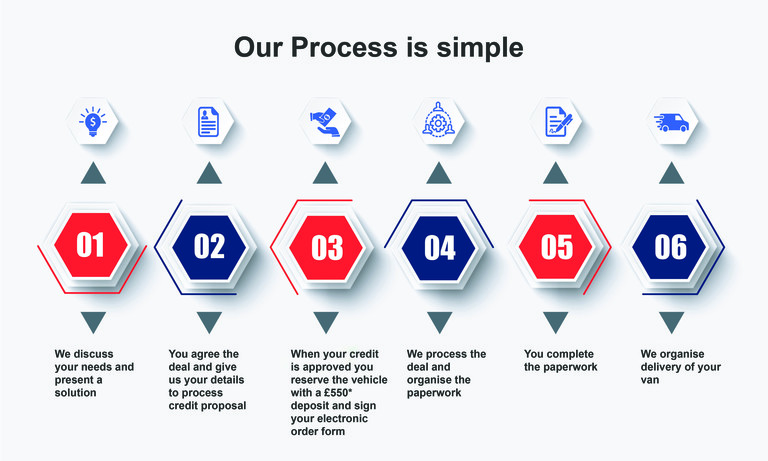 Our process is simple:
We discuss your needs and present a solution
You agree the deal and give us your details to process credit proposal
When your credit is approved you reserve the vehicle with a £550* deposit and sign your electronic order form
We process the deal and organise the paperwork
You complete the paperwork
We organise delivery of your van
Our range of vans for lease
We work with all major manufacturers – see below. Global Vans lease deals will vary on price dependant on the batches we have negotiated at the time but we try to spread these in line with what customers want.

All our vans are new or pre-registered and benefit from the manufacturers warranty. Clients may have different opinions on van makes and models but generally we believe that all vans are generically good and have comparable reliability.

Looking for something specific? We can scour the UK to help find what you want.

Van Leasing from Globalvans
Whatever the van lease deal you are looking for, at Global Vans we have a great range of offers for you to look at. Our team here at Global Vans will tailor the best deal for you, based on your budget and business needs. Choose from a range of different vehicle types. We have large vans such as tippers or small vans such as the well known Citroen Berlingo.
We sell all sorts of brands. The top ones include Fiat, Nissan, Mercedes, Citroen and VW. We will walk you through the different financing options, such as Contract hire, Finance lease and Hire Purchase, and make sure you picked the right option that fits your business requirements. Our van leasing experts here that will guide you through the process and together with our Sales Support and Customer Service teams, we will help to answer any questions you may have along the way. You'll be in good hands with Global Vans!
Check out our deals page for all the latest special van leasing offers available.
More topics related to van leasing…