Why Van Leasing is better than Purchasing
November 21st, 2023
Whether you're a small business owner who's looking for a new van or a company that owns a fleet of vans, at some point you will have to consider whether you should lease a van or buy one outright.
In this blog post, we'll explore how the two options compare, so you can evaluate which is better for your business.
What is the difference between a Van Lease and a Van Purchase?
The difference between a lease and outright purchase is that when you buy a van, you pay a one time cost and you are provided with full ownership of the vehicle. On the other hand, a van lease involves paying a fixed monthly fee while having full use the vehicle, and can offer flexible end of contract options around ownership.
At Global Vans, we can provide Hire Purchase arrangements where you pay a monthly fee and at the end of the lease period you own your vehicle. If you choose to Finance Lease your vehicle, you have options to keep, sell or trade-in your vehicle at the end of your lease. Or, if you want to do away with the hassle of disposal, Contract Hire vehicles are collected for you at the end of your lease, with no option for ownership.
> Read more about our van leasing options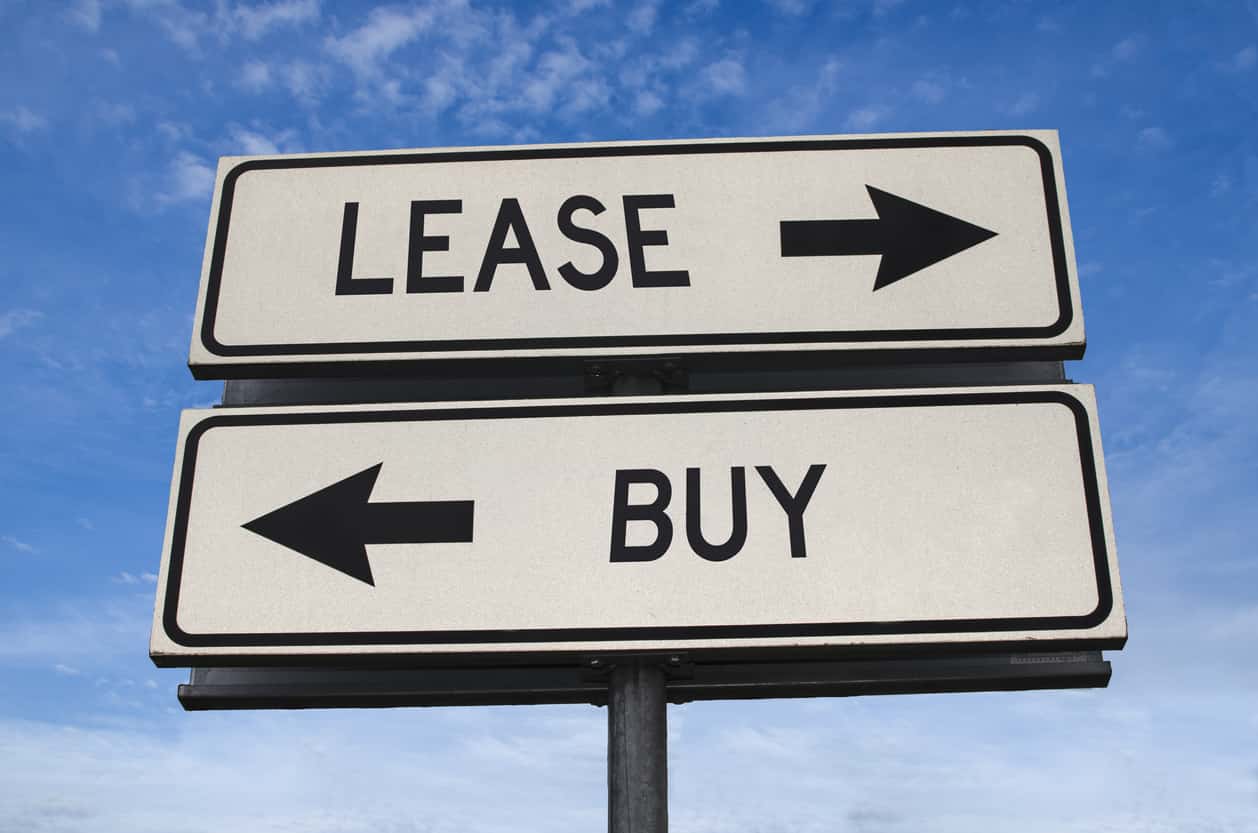 Should I purchase a Van for my business?
If you're looking to buy a van outright and you have the money, purchasing a van has always been the traditional option. However, it is fast being acknowledged that purchasing a van can have quite a few drawbacks for businesses. With leasing a van proving to be a more cost-efficient option.
Advantages of Purchasing a Van for a business
After completing the purchase of the van, you will own it completely. All maintenance and running costs will be your responsibility and the van is your to use as needed.
If you took out a loan to pay for the van, then you will be able to use the vehicle as needed and own the vehicle once the loan has been repaid.
Buying a van for your business, if using traditional accounting, will be counted as a capital allowance.
Disadvantages of Purchasing a Van for a business
The initial cost can be quite high to purchase a van outright and requires a lot of capital up front. Loans can further complicate the process, often offering high interest rates.
Vans bought outright are not great business assets. They depreciate very quickly so you will be losing money from the moment you pay for the van.
As the owner of the van, you will be responsible for maintenance and repair costs. When upgrading, you will need to pay in capital for a new model, rather than trading in as you would with a van lease.
Should I lease a Van for my business?
Leasing a van for your business can actually provide numerous benefits over purchasing a van. Some of the advantages will ultimately depend on the type of lease that you agree to but overall, the advantages certainly outweigh the disadvantages.
Advantages of leasing a van for a business
Leasing a van involves paying a fixed monthly payment which allows for better budgeting. This means that small businesses don't have to worry about large lump sum payments and can pay off their van is more manageable payments.
Leasing a van therefore also provides a lot of liquidity benefits which aren't possible when purchasing a van. Spreading the cost over the lease period means a brand new van is much more affordable. Plus, your funds won't be tied up in a depreciating asset!
Beneficial tax treatment on van leases means that you can claim back the VAT – providing you are registered.
By leasing brand new vans you will be covered by a Manufacturer's Warranty for at least the first 3 years. Other maintenance and repairs can be covered by a Maintenance Package for routine servicing and more comprehensive cover.
> Read more about Van Maintenance here
Disadvantages of leasing a van for a business
When you lease a van, the finance company will run a credit check. If your credit is not deemed good enough, then you will not be able to lease a van.
While you are able to choose a lease that doesn't charge excess mileage and excess damage fees at the end of your contract, if you do massively exceed your agreed mileage or the vehicle is heavily damaged, then you are unlikely to have an equity in the vehicle at the end of the lease. This is due to exceeding the level of depreciation the lease is based on.
> Read more about the Business Benefits of Van leasing
Is leasing a Van Tax Efficient?
As mentioned above, there are numerous benefits of leasing a van over buying a van outright. The tax benefits are undoubtedly some of the main financial benefits for businesses considering leasing a van.
As mentioned above, a van lease can be claimed as a business expense and you can therefore reclaim VAT on both the initial payment as well as the monthly payments, if applicable. Buying a van on the other hand, only allows you claim capital allowances for the full cost of the van.
Why is leasing a Van from Global Vans so much cheaper?
Leasing is a van is more cost-efficient than buying a van. You'll save money with pre-agreed affordable monthly payments, a reliable and fuel efficient new van under Manufacturer's Warranty, and you won't have money tied up in a depreciating asset.
At Global Vans, our 20+ years of industry experience mean we benefit from great supplier discounts. We've done away with expensive showrooms to ensure we can pass those savings on to you! So you can be sure, you'll save up to 40% more on your van lease than you would at a dealership!
> Browse our latest specials to find the best van leasing deals